CONQUERING SOCHI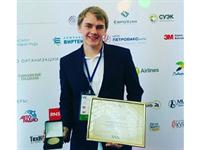 On April 10-14, on the platform of the main media center in Sochi there is held the III All-Russian labor safety week. The program includes carrying out the Youth forum "Innovative projects in health and safety". The students of the Russian higher educational establishments' are taking part in it.
The main goal of the forum is to attract the attention of the younger generation to issues of safe work, to popularize the future specialists' ability to prepare and implement the best solutions in the field of labor safety, industrial and fire safety, ecology, medicine and labor psychology, healthy lifestyles.
Within the framework of the forum, there are held a number of events for the students' professional self-determination and self-realization: discussions, round tables, projects defense in labor safety, a job fair, business trainings, master classes,etc.
The student of the Kazan State Power Engineering University, Igor Ryabykh (the scientific consultor Bogdanov A.N.), is the winner of the All-Russian Youth Contest "The Future of Labor Safety". He presented to the jury the project "Virtual Simulators Development Improving Labor Safety ".
"Virtual reality is a new bright innovative tool and today it is gaining momentum in different spheres," explains Igor. "Basically, this is, of course, the sphere of computer games, but virtual reality can be used to create full-fledged training simulators to help prevent injuries among workers."
The students and postgraduates studying in specialties related to labor and industrial safety, ecology, medicine and labor psychology, personnel management, etc. took part in the contest "The future of labor safety".
The video report of the contest: https://www.youtube.com/watch?v=IMVn06Vg3Gc&feature=youtu.be