«CHAK-CHAK RUBIK'S CUBE IN KAZAN 2017»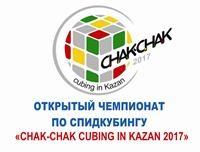 ON NOVEMBER 11-12, 2017, IN TATARSTAN HISTORY SECOND OFFICIAL CHAMPIONSHIP IN SPEEDCUBING "CHAK-CHAK RUBIK'S CUBE IN KAZAN 2017" WILL BE HELD IN KGEU.
Speedcubing or a Rubik's cube matching and other puzzles playing for time are extremely popular hobbies in the world. They develop thinking, logics, reaction speed, vision, motor skills and mental abilities. This is a good opportunity for children's and young people's having good time.
On November 11-12, the Speedcubing Championship will be held under the World Cube Association (WCA) authorities.
To plunge into the atmosphere of the holiday, try your skills and set new records, it is absolutely possible for everyone!
At the championship you will be able to participate in 15 disciplines: 2х2, 3х3, 4х4, 5х5, 6х6, 7х7, 3х3 ОН, 3х3 by the number of moves, 3х3 blind, Pyraminx, Megaminx, Rubik's Clock, Skewb, Square-1, multiblast.
To participate, you must register on the World Cube Association (WCA) website (link below).
Also, please pay attention to the organizational fee:
- 200 rubles for the Rubik's Cube;
- 300 rubles for 7 disciplines;
- 350 rubles for more than 7 disciplines.
ATTENTION! The championship is connected to a single system of penalties for failure to attend the speedcubing championship. If you applied and did not participate in another championship connected to this system, you will have to pay a fine before participating in these competitions.
The official site of the championship: https://vk.com/cccinkazan
The program of the championship in speedcubing: 1 day - November 11, 2017; Day 2 - November 12, 2017