OURS ARE IN TOP-5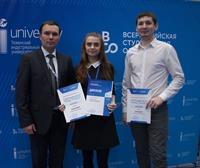 ON NOVEMBER 15-17, THE ALL-RUSSIAN OLYMPIAD IN THE DISCIPLINE "ELECTRICAL ENGINEERING" WAS HELD IN TYUMEN
On November 15-17, the All-Russian Olympiad in the discipline "Electrical Engineering" was held at the basic university of the Tyumen region of the Federal State Educational Establishment of Higher Education in the "Tyumen Industrial University"
KSPEU team was represented by four students:
1. Mukimov A.Kh. gr. EMK-1-14
2. Sidorova AA gr. EMK-1-14
3. Gafarova M.R. gr. ACS-1-15
4. Gataullina A.R. gr. ES-1-15
The head of the team was the senior teacher of "ECS" Department, O.A. Filina.
The Olympics included the implementation of theoretical and practical competitive tasks on analysis methods and electrical circuits modeling.
As a result, the team of the Kazan State Power Engineering University took the fifth place.
The participants and the team leader were awarded with certificates and memorable gifts.
The management of the Tyumen Industrial University, the acting rector V.V. Efremova, sent a letter of thanks to our rector E.Yu. Abdullazyanov for the fact that the students adequately presented their university, showing high level of knowledge, skills and skills.
The team expresses great gratitude to the teachers who prepared them:
the senior lecturer of ECS faculty, Rybakov R.B.
the associate professor of ECS Department, Bazhenov N.G.
the associate professor of TEB Department, Suray L.A.