FOREIGN LANGUAGES DEPARTMENT TEACHER MADE "A PEDAGOGICAL OPENING"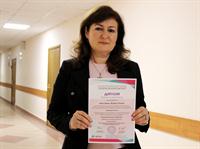 The results of the II All-Russian (with international participation) educational contest of professional skills and personal achievements of educational institutions employees "A PEDAGOGICAL OPENING" were ublished. There were 12 nominations within the content framework.
The candidate of pedagogical sciences, an Associate Professor of the "Foreign Languages" Department, Zhanna Ilevna Aytuganova , became the winner in the nomination "Pedagogical Innovations".There were 94 participants in the competition. The following nominations were also presented: "Information and educational space", "Professional piggy-bank", "A proud post- a teacher" and others.
The contest, dedicated to the practice of effective youth teaching and education, was held from June 10 to August 28, 2017.
Zhanna Ilevna Aytuganova presented an educational and methodical work: f video lesson in English for bachelors - "Great Britain. Industry in the UK ». The work was broadcast through the country.