MATHEMATICIANS OF THE POWER ENGINEERING UNIVERSITY AT UFE OLYMPIAD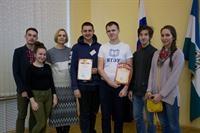 We congratulations the KSPEU team on a successful performance at the All-Russian Student Olympiad in Mathematics, held at the Ufa State Aviation University on November, 28-30.
The student of the group ICT-2-17, Sirtsov Andrei Alexandrovich, took the II place in the individual competition among technical specialties.
The students' team, including Andrei Alexandrovich Sirtsov and Aleksandr Sergeevich Malyanov took the third place among technical specialties.