KSPEU MUSEUM HAS NEW EXHIBITS
THERE WAS HELD A MEETING OF THE HEAD OF "SHOT" MILITARY-PATRIOTIC ORGANISATION WITH THE KSPEUSTUDENTS. DURING THE MEETING THE RECTOR WAS AWARDEDA RIDGE OF THE LEGENDARY RUSSIAN DESIGNER, SERGEY MOSIN, THE LATTER BEING ASSIGNED FOR THE KSPEU MUSEUM.
Let us remember that the weapons of Sergei Mosincan be called a true rarity. The Mosin's system rifles and carbines of several modifications were made in Russia and the USSR until 1947 and were in service until the mid-1970s.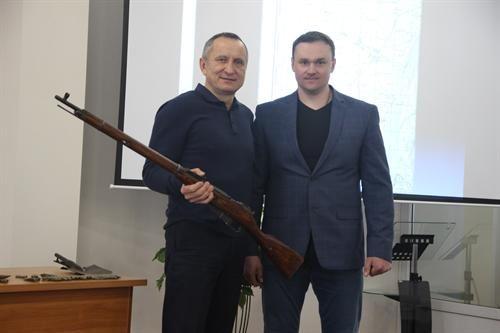 These and other exhibits were found during expeditions searching work. The museum exhibits will now remind their guests how fragile the peace is and how terrible harsh realities of war are. The treasures of the military past will be kept in the KSPEUmuseum. In the future, visitors are promised one more surprise – an opening of a special military exposition. It means that there will more rarities in the museum's storeroom.
In addition, the leader of the "Shot" organization, Dmitry Yudin, visually demonstrated the weapons that were used during the war, told stories associated with the events of the military past and how, thanks to modern technologies, you can recreate the history of the eraon discovered remains in a short time.