KSPEU STUDENTS MET KAMAZ-MASTER TEAM
THE SPORTSMEN DISCLOSED THE SUCCESS SECRET, THE STUDENTS ASKED THE MOST INTERESTING QUESTIONS, AND THE RECTOR OF THE POWER ENGINEERING UNIVERSITY TRIED ON THE CHAMPIONS' PART.
A meeting of heroes! They were waiting to express their admiration. They proved: "KAMAZ-Master" is not afraid of competition. The team is able to win, even if the circumstances are against them.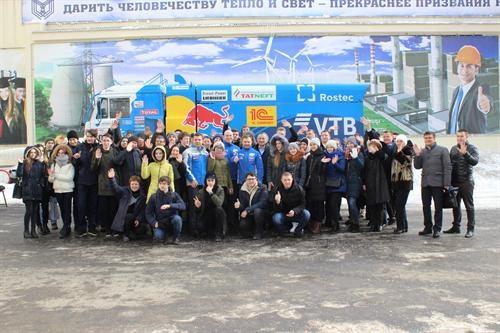 "KAMAZ-Master" IS the most recognizable team in trucks category. In January, they won the 15th triumph of Russians at Dakar. As well as in the past to year, the first place has the crew under control of Edward Nikolaev. He was leading throughout most part of the race, but, as later he admitted to the students, it was one of the hardest victories in his career: "You always go to the final making your best, but we must not forget that it's always a team competition, so it's not my but our victory, " said Eduard Nikolayev.
The final third place has our crew under the command of Ayrat Mardeev, who also answered the students' questions. By the way, there were a lot of them: from the first senses experienced while first driving to the first stolen car from the parents: "Fortunately, the cars were not stolen," the champions laughed. "My parents did not mind, and when I was four my father started to teach me how to drive a car," said Ayrat Mardeyev.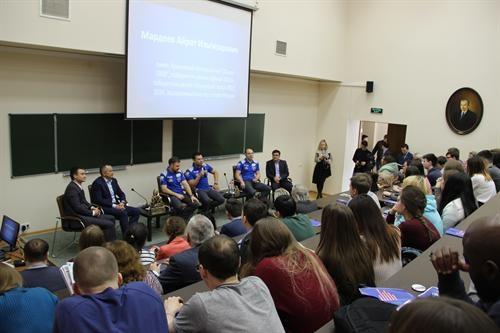 The SPEU Rector felt at the place of the champions. Edward Abdullazyanov literally climbed to KAMAZ, which stood in the courtyard of KSPEU. Later, the Rector congratulated the team and presented the athletes memorable gifts, noting that the KamAZ-Master racers showed the students an example of struggle and overcoming difficulties.